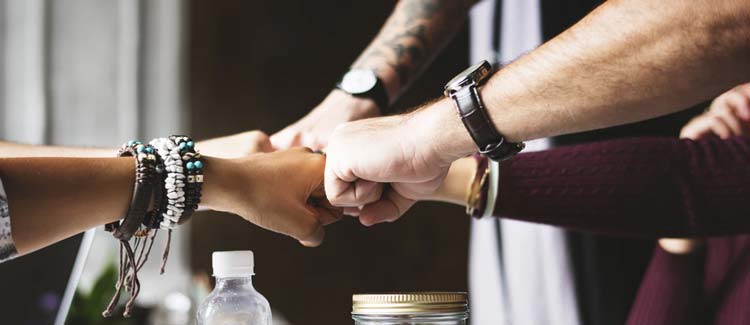 26 March 2018 SHARE THIS /TALK TO US
---
Benefits Of A Team Lunch
The Benefits of Lunch as a Team Building Activity
What Is A Team Lunch?
We're sure you're familiar with this situation: Your team is on the daily grind, getting through their workload and then when lunch time rolls around they find themselves sitting at their desk eating their meal.
They're most likely scoffing their food down so they can quickly get through their tasks! In fact 1 in 4 Australian employees choose to eat at their desks. Over time, this can cause your team's bonds to grow weaker and make employees feel less appreciated.
Team lunches are a fantastic opportunity to get your team or department together to infuse some fun and dynamism at the workplace. It's hardly surprising that 60 percent of employees surveyed in a study said they would feel more valued and appreciated if they were provided food at the office.
At Vanilla Blue we believe in the power of food in bringing teams together to create a healthy workplace. Read on to learn more about how company lunches are important for team building.

---
Why are Team Lunches Important for Your Company?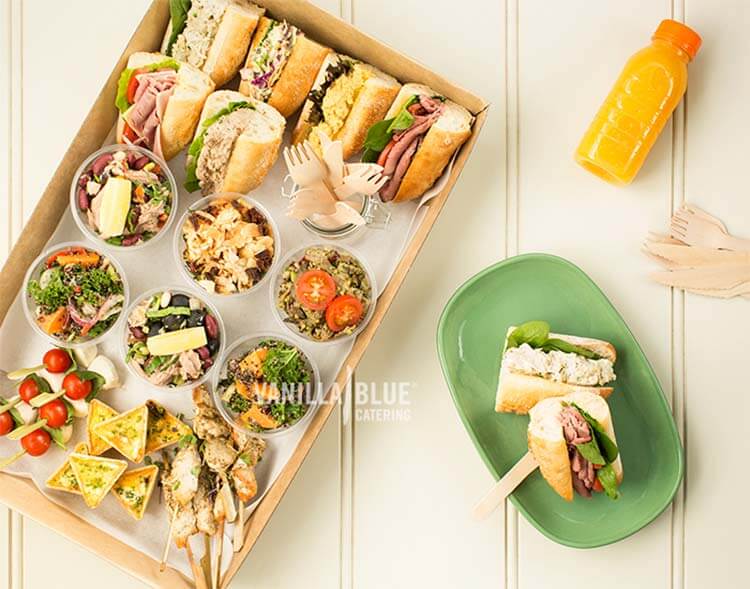 It boosts team morale
Connecting with work colleagues beyond simply work often tends to get ignored and put aside. Our work overtakes our day and even trying to take an hour off could sometimes become a tough balancing act.
Having social outings and lunch get togethers with your staff can help in boosting team morale. It's an opportunity for your team to connect and bond over non-work-related conversations. Cultivating these workplace relationships are vital to keeping your employees happy. A study shows that 67% of workers stated that having friends at work makes it more enjoyable and fun.
That way your staff are able to disconnect for an hour and come back to work feeling refreshed and happy.

Sharing lunch offers a chance to network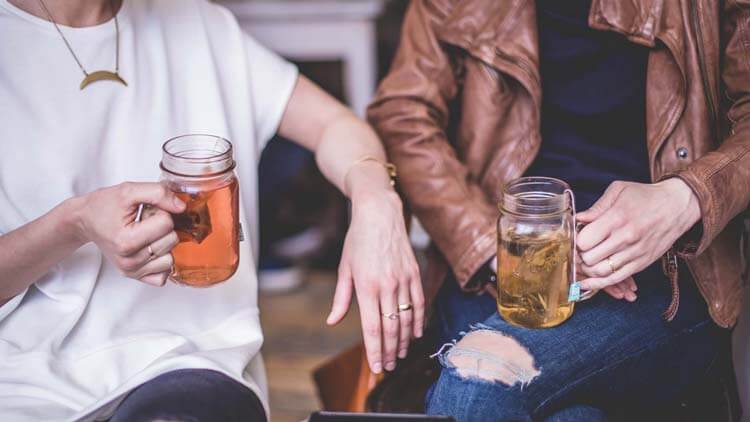 Team lunches can be a time to network with like minded team members or even staff from other departments. Perhaps a cross-department lunch is in order?It's a great way to have a "company meeting" without the word meeting put into it and instead having some delicious food to share.
It's a chance for your work colleagues to share different perspectives on any relatable work topics, brainstorm solutions on challenges they're facing at work or even learning something new.

Helps build company culture and pride
Your employees are an indispensable part of your brand image. It's fantastic to show your workplace delivering great results with your existing clients. But it's also great for new and potential customers and existing clients to see positive company pride.
Organising a luncheon at work and documenting this on social media channels such as Facebook and Instagram is an effective way to further your positive brand image and market your company. It also gives people a behind-the-scenes look at what you do.
Still not convinced? Consider this: 45% of workers said the availability of a free lunch would influence their decision to accept a job offer and be proud to be working in a great workplace that advocates team bonding.

Increasing productivity in the workplace
It's sad to see that 1 in 4 Aussies choose to have lunch at their desks and in the long run this can really harm their productivity.
Encouraging staff to take lunch together away from their desks is a great way to break up their day and also stretch out their legs. It will increase their focus, creativity and connections within the workplace.

---
How To Make Your Team Lunch Interesting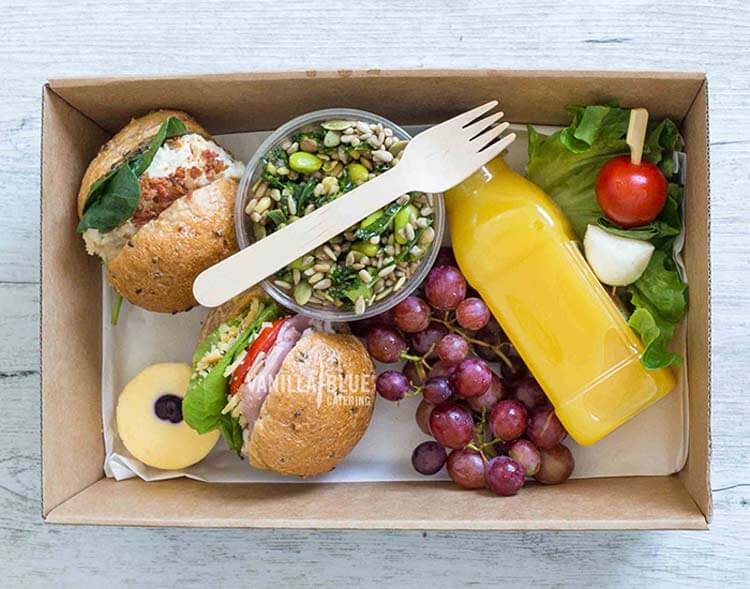 There are so many different ways to make your team lunches interesting. The best way is to not make it too complicated. You can choose to have everyone relax in the lunchroom and have a hearty lunch catered right at your office doorstep.
Be sure to also note down any special diet requirements so everyone gets to nibble on something they truly enjoy.
Here are a few suggestions on how to make team lunches interesting:
Themed lunches such a Mexican and Japanese are sure to be a hit
Lunches organised around seasonal events such as Australia Day and Melbourne Cup will pair perfectly with fun activities to celebrate these days
Throw in fun team games and bonding activities that test problem solving, communication and teamwork
For something really unique, try a "No-tech Campfire" session. In addition to sharing food, you can have all your team members sit around without their phones, and spend an hour discussing any topic, be it related to work-life or common interests, without any distractions.
---
Make Team Lunches Fun Again With Corporate Catering
Excited to bond with your work colleagues? Spend more time with your team and let us worry about the team building lunch. We offer plenty of different options that your colleagues will fancy.
We take into consideration their special diet requirements and anything that you require with your order. Get in touch with one of our friendly foodies now to place an order and organise your exciting team lunch today!